Eben "Frostey" Selker
---
---
2017 Graphic Design Bachelor's Degree Graduate. Cartoonist. I've also helped people learn how to use Photoshop here and there.

The Bison2Winquote Tumblr served as a most notable entry in the world of memes for me up until the platform's slow decline. I still occasionally update it however in the event I find interesting content for those who still have interest Tumblr.

Comic drawing is definitely one of my passions. I draw multiple series. I'd love to be comissioned by someone to draw something at some point.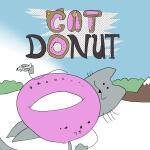 I love video games, reading other cat comics, and swimming